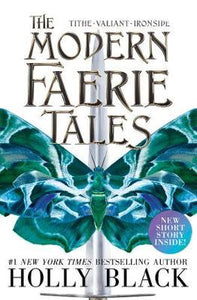 Book Title: Modern Faerie Tales
ISBN: 9781471182365
By Author(s):BLACK HOLLY
By Publisher:SIMON & SCHUSTER UK
Format:PB
In Tithe, sixteen-year-old Kaye is a modern nomad. Fierce and independent, she drifts from place to place with her mother's rock band until an ominous attack forces Kaye back to her childhood home. There, amid the blue-collar New Jersey backdrop, Kaye finds herself an unwilling pawn in an ancient and violent power struggle between two rival faerie kingdoms-a struggle that could very well mean her death.

In Valiant, the companion to Tithe, seventeen-year-old Valerie runs away to New York City, trying to escape a life that has utterly betrayed her. Sporting a new identity, she takes up with a gang of squatters who live in the city's labyrinthine subway system. But there's something eerily beguiling about Val's new friends. When one talks Val into tracking down the lair of a mysterious creature, Val finds herself torn between her affection for an honorable monster and her fear of what her new friends are becoming.

In Ironside, the sequel to Tithe, the time has come for Roiben's coronation. Uneasy in the midst of the malevolent Unseelie Court, pixie Kaye is sure of only one thing-her love for Roiben. But when Kaye drunkenly declares herself to Roiben, he sends her on a seemingly impossible quest to find a faerie who can tell a lie. Unable to see Roiben until she has fulfilled his quest, Kaye finds herself in the center of the battle of wits and weapons being waged over his throne.