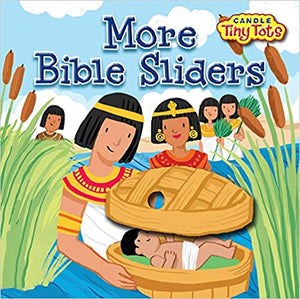 *Good as Gifts!
Book Title: More Bible Sliders
ISBN: 9781781282731
By Author(s):KAREN WILLIAMSON, KATHRYN SELBERT
By Publisher:LION HUDSON
Format:BB
The Candle Tiny Tots series adds a second volume of the fantastic Bible Sliders to its range. The book contains four Bible story spreads, each story has a sliding section to the picture which reveals a fun before and after element of the story, and there is an extra sliding section on the cover - look, Moses is in the basket!