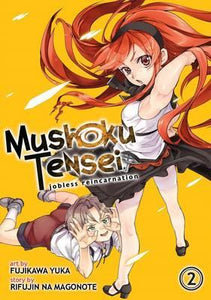 Book Title: Mushoku Tensei: Jobless Reincarnation Vo
ISBN: 9781626922440
By Author(s):MAGONOTE RIFUJIN NA
By Publisher:HOLTZBRINCK
Format:PB
"IF ONLY I COULD JUST START OVER AGAIN..." Reborn into a world of swords and magic, Rudeus--a former 34-year-old deadbeat otaku--is determined to live his new life to the fullest, yet things take a surprise turn when Rudy is sent to stay with a faraway relative. In exchange for them teaching him sword fighting, Rudy agrees to tutor his second cousin. However, it turns out the only thing his new pupil is interested in is giving everyone a hard time! Rudy devises a strategy that may finally get his disrespectful cousin in line, but when a staged kidnapping goes awry, Rudy will need to rely on his skills and her obedience to save their very lives!