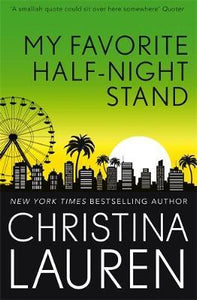 Book Title: My Favourite Half-Night Stand /Bp*
ISBN: 9780349422732
By Author(s):LAUREN CHRISTINA
By Publisher:PIATKUS
Format:PB
'Stop what you are doing and go get Christina Lauren's My Favourite Half-Night Stand!' That's Normal

Swipe right on My Favourite Half-Night Stand - a funny, fresh romp into the ups and downs of online dating that's sure to make you laugh out loud.

Millie Morris has always been one of the guys. A professor at a respected university, she's great at witty backchat but terrible at getting personal. Like her four best male friends, she's perma-single. So when a routine university function turns into a black tie gala, they all make a pact to join an online dating service and find plus-ones. There's just one hitch: after making the pact, Millie and one of their group, Reid Campbell, secretly spend the sexiest half-night of their lives together, before deciding the friendship is better off strictly platonic.