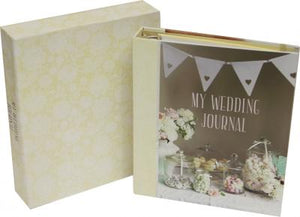 Book Title: My Wedding Journal
ISBN: 9781849754477
By Author(s):RYLAND PETERS & SMALL
By Publisher: Ryland Peters&Small
Format:BOX
Guided pages arranged in themed sections focus on all the details of the day, from the story of how the bride and groom first met and the proposal to notes about the attendants, the menu and the reception. The 8 tabbed section dividers feature handy pockets for storing an array of personal keepsakes, from sketches and fabric swatches from the dressmaker to invitations, menu cards and personal vows. Dedicated pages throughout provide a home for mementoes of the big day (attach with the glue dots provided), as well as a photo album section at the back. A sheaf of flower pressing paper allows brides to press blooms from their bouquet and store them for posterity. Finally, envelope pockets (with ties) inside the front and back covers are ideal for storing larger keepsakes, such as handwritten wedding vows, pressed flowers from the bouquet, cards and letters received, pieces of confetti or dainty favour trimmings.