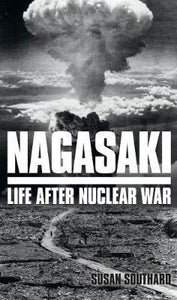 Book Title: Nagasaki: Life After Nuclear War
ISBN: 9780285643826
By Author(s):SUSAN SOUTHARD
By Publisher:SOUVENIR
Format:PB
On August 9th, 1945, the US dropped an atomic bomb on Nagasaki.

It killed a third of the population instantly, and the survivors, or hibakusha, would be affected by the life-altering medical conditions caused by the radiation for the rest of their lives. They were also marked with the stigma of their exposure to radiation, and fears of the consequences for their children.

Nagasaki follows the previously unknown stories of five survivors and their families, from 1945 to the present day. It captures the full range of pain, fear, bravery and compassion unleashed by the destruction of a city.Susan Southard has interviewed the hibakusha over many years and her intimate portraits of their lives show the consequences of nuclear war. Nagasaki tells the neglected story of life after nuclear war and will help shape public debate over one of the most controversial wartime acts in history.

Published for the 70th anniversary of the Hiroshima and Nagasaki bombs, this is the first study to be based on eye-witness accounts of Nagasaki in the style of John Hersey's Hiroshima.


On August 9th, 1945, three days after the atomic bombing of Hiroshima, a 5-tonne plutonium bomb was dropped on the small, coastal city of Nagasaki. The explosion destroyed factories, shops and homes and killed 74,000 people while injuring another 75,000. The two atomic bombs marked the end of a global war but for the tens of thousands of survivors it was the beginning of a new life marked with the stigma of being hibakusha (atomic bomb-affected people).