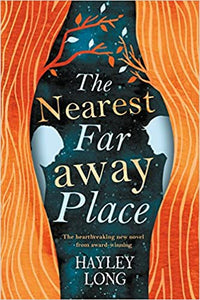 *GOOD AS GIFTS!
Book Title: Nearest Faraway Place
ISBN: 9781471406263
By Author(s):LONG HAYLEY
By Publisher:Bonnier Zaffre
Format:PB
A powerfully told story of the love between two brothers in the aftermath of a family tragedy

Griff and Dylan are driving into Manhattan with their parents when the worst happens. There is a terrible car accident and Dylan and Griff(1)s parents are killed.

The boys are suddenly orphans with nowhere to go, until a kind aunt and uncle give them a new home in Wales. Now Dylan and Griff have everything they need love, a happy home and a future. But Dylan is worried about Griff: whether he is OK, whether he is coping with his grief. He doesn't seem to want to speak about it or really acknowledge the loss of their parents.

But Dylan needs to be even braver than Griff, because there is something very important he needs to face up to before he can move on.