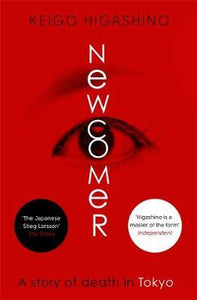 Book Title: Newcomer /T
ISBN: 9781408711828
By Author(s):HIGASHINO KEIGO
By Publisher:LITTLE BROWN
Format:TPB
Shortlisted for the Crime Writers' Association International Dagger Award

Spectator Best Books of 2019

'An intriguing mashup of police procedural and golden age puzzle mystery' Guardian

International bestseller Keigo Higashino returns with his latest mindbender - Newcomer - as newly transferred Tokyo Police Detective Kyochiro Kaga is assigned to a baffling murder.

Detective Kyochiro Kaga of the Tokyo Police Department has just been transferred to a new precinct in the Nihonbashi area of Tokyo. Newly arrived, but with a great deal of experience, Kaga is promptly assigned to the team investigating the murder of a woman. But the more he investigates, the greater number of potential suspects emerges. It isn't long before it seems nearly all the people living and working in the business district of Nihonbashi have a motive for murder. To prevent the culprit from eluding justice, Kaga must unravel all the secrets surrounding a complicated life. Buried somewhere in the woman's past, in her family history, and the last few days of her life is the clue that will lead to the murderer.

This is the second appearance in English of Police detective Kyochiro Kaga, the protagonist of the critically acclaimed Malice.