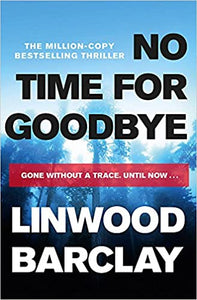 Book Title: No Time For Goodbye /P
ISBN: 9781409159841
By Author(s):BARCLAY LINWOOD
By Publisher: HACHETTE
Format:PB
A reissue of Linwood Barclay's brilliant first thriller - the fastest-selling Richard & Judy title to date - including a chapter of the sequel NO SAFE HOUSE

On the morning she will never forget, suburban teenager Cynthia Archer awakes with a nasty hangover and a feeling she is going to have an even nastier confrontation with her mom and dad. But when she leaves her bedroom, she discovers the house is empty, with no sign of her parents or younger brother Todd. In the blink of an eye, without any explanation, her family has simply disappeared.

Twenty-five years later Cynthia is still haunted by unanswered questions. Were her family murdered? If so, why was she spared? And if they're alive, why did they abandon her in such a cruel way? Now married with a daughter of her own, Cynthia fears that her new family will be taken from her just as her first one was. And so she agrees to take part in a TV documentary revisiting the case, in the hope that somebody somewhere will remember something - or even that her father, mother or brother might finally reach out to her . . .