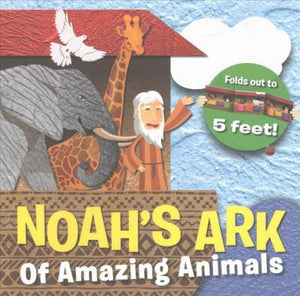 Book Title: Noah's Ark Of Amazing Animals
ISBN: 9781942556619
By Author(s):MEDIA LAB BOOKS
By Publisher: HOLTZBRINCK US
Format:BB
Introduce your children to the story of Noah's Ark with this expanding, accordion-style picture book! Once completely unfolded, children will marvel at the 5-foot ark full of animals that lays before them. Fun animal facts accompany each picture, while the full story of Noah's Ark is written on the reverse, making this two fun books in one.

They'll learn about the flood and God's grace, and also discover fun facts about the animals Noah took on the ark.