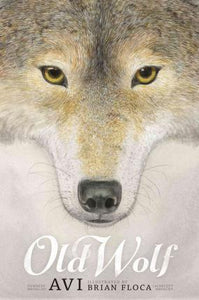 Book Title: Old Wolf
ISBN: 9781442499218
By Author(s):AVI & FLOCA BRIAN
By Publisher:SIMON & SCHUSTER
Format:HC
Hunting--the predator and its prey--is at the heart of this riveting and suspenseful novel from Newbery Medalist Avi with illustrations from Caldecott Medalist Brian Floca. In the computer game world of Bow Hunter--thirteen-year-old Casey's world--there are no deaths, just kills. In Nashoba's world--the wolf world--there have been no kills. For this is March, the Starving Time in the Iron Mountain region of Colorado, when wolves and ravens alike are desperate for food. With the help of a raven, the miraculous Merla, Nashoba must lead his pack of eight to their next meal. The wolf hates being dependent on a mere bird, but Merla is a bird wise beyond her years. When Casey's path crosses Nashoba's, the worlds of two very different hunters collide.