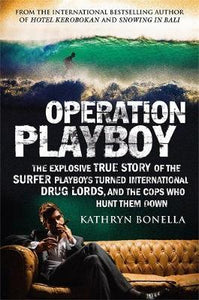 Book Title: Operation Playboy
ISBN: 9781787478237
By Author(s):KATHRYN BONELLA
By Publisher:QUERCUS
Format:PB
Sex. Drugs. Danger. Death.
FROM THE ACCLAIMED AUTHOR OF BESTSELLERS HOTEL KEROBOKAN AND SNOWING IN BALI
This is the adrenaline-pumping story of the world's most audacious drug runners and the police hunt, 'Operation Playboy', to track them down.
These drug-running playboys travel the globe: they ski in Europe, surf in Bali, hook up with celebrity models and live in five-star hotels. They are 24/7 party boys with brass balls, steely nerves and reckless ambitions. They pay for their high-risk, hedonistic lifestyle by trafficking cocaine, ecstasy and marijuana on international flights and through the world's biggest airports.
But to ride the wave you have to roll the dice. And in this game a bust means prison - or even a firing squad. A Brazilian cop is watching closely, determined to close the net. With a small team, he battles corrupt colleagues and bent judges to learn the secrets of the playboys and bring about their downfall.
Celebrated true-crime writer and journalist Kathryn Bonella has travelled the world to collect first-person testimony from an international network of mules and their bosses, as well as from the elite cops who are hot on their trail.