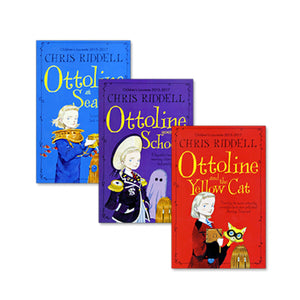 *Good as Gifts!
Book Title: Ottoline 3 Title Pack
Chris Riddell is a beloved author, illustrator and the former Children's Laureate. His Ottoline books follow an exceptionally inquisitive Mistress of Disguise and her partner in crime, Mr. Munroe, as they solve all sorts of tricky puzzles...

Ottoline and the Yellow Cat finds the duo investigating a string of high-society dog-nappings and jewel thefts that have taken place in Big City; Ottoline at Sea has Mr. Munroe mysteriously disappearing, meaning Ottoline has no choice but to go on a journey over, under and on top of the sea; and Ottoline Goes to Sea follows Ottoline as she attends the Alice B. Smith School for the Differently Gifted, even though she's not sure she actually has a special gift.

Full of Chris Riddell's own illustrations, these are exciting adventures that children will enjoy over and over again. 
For 7+
ISBN: 9781509880294
By Author(s):RIDDELL CHRIS
By Publisher:PAN MACMILLAN
Format:PACK