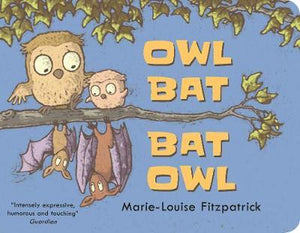 *GOOD AS GIFTS!
Book Title: Owl Bat Bat Owl
ISBN: 9781406377408
By Author(s):FITZPATRICK MARIE-LOUISE
By Publisher:Walker
Format:BB
"Intensely expressive, humorous and touching" Guardian

Mummy Owl and her three little owls live happily on their spacious branch. That is, until the bat family move in. And the new neighbours (the owls up-top, the bats hanging below) can't help but feel a little wary of one another. Owls just don't mix with bats and bats don't mix with owls. But babies are curious little creatures and this curiosity, and a wild, stormy night, might just bring these two families together...

From award-winning author and illustrator, Marie-Louise Fitzpatrick, comes a stunning wordless board book that celebrates family, friendship and the power of togetherness.