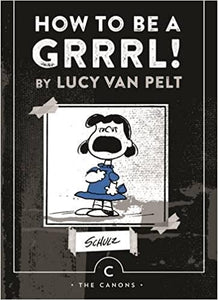 * Great as Gifts!
Book Title: Peanuts: How To Be A Grrl: Lucy /H*
ISBN: 9781782113614
By Author(s):CHARLES SCHULZ
By Publisher:CANONGATE
Format:PB
'The crabby little girls of today are the crabby old women of tomorrow!'

Entrepreneur, psychiatrist, fussbudget - Lucy van Pelt is the much-loved crabby heroine of the Peanuts gang. Never one to suffer in silence, in this brand new book she is presented as the role model she has always wanted to be. Packed with tips on how to stick up for yourself, how to make yourself heard, how to stand up for what you believe in and much more besides, How to be a Grrrl is Lucy's guide to making the most of being a girl.