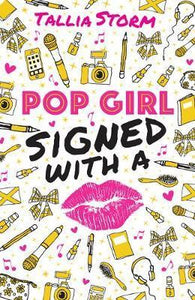 Book Title: Pop Girl 2: Signed With A Kiss
ISBN: 9781407159393
By Author(s):STORM TALLIA
By Publisher:SCHOLASTIC UK
Format:PB
After an I-still-can't-believe-it brush with fame, teen singing sensation Storm Hall is determined to keep her star on the rise. She records a demo, and soon her all-time favourite label wants to sign her. And is mega-hottie rock god Jase Mahone flirting with
her? A hotel suite in London, fancy cars, parties - Storm's finally living the dream! But life as a pop star means letting go of her old life, even the people she loves most. Is this really the dream she wants?