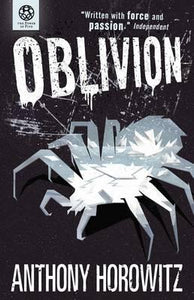 Book Title: Power Five : Oblivion
ISBN: 9781406327441
By Author(s):HOROWITZ ANTHONY
By Publisher:WALKER
Format:PB
The epic conclusion to the ever-popular supernatural series, by the number one bestselling author of Alex Rider.

Having escaped from Hong Kong, the five gatekeepers - Matt, Pedro, Scott, Jamie and Scarlett - are lost in a hostile and dangerous world. As they struggle to re-group and plan their next move, the malevolent King of the Old Ones gathers his forces in Oblivion: a desolate landscape where the last survivors of humanity must fight the ultimate battle.