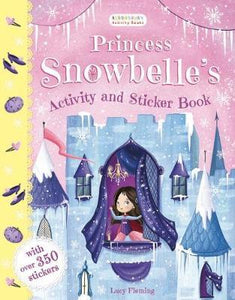 Book Title: Princess Snowbelle's Act & Sticker Bk
ISBN: 9781408877371
By Author(s):FLEMING LUCY
By Publisher:BLOOMSBURY UK
Format:PB
Far away, in a castle that glistens as white as snow, lives the beautiful Princess Snowbelle. When she's not out exploring the enchanted wood with her pony Icetail, she's attending royal snow balls with her family or gliding over the frozen lake on ice skates with her best friends.
This stunning activity book is packed with lots of different activities: help Snowbelle and Icetail find their way to the top of the Ice Mountain, design the castle's beautiful snow garden and write your own story about all the exciting adventures you would have if you were a snow princess. It's a winter wonderland!