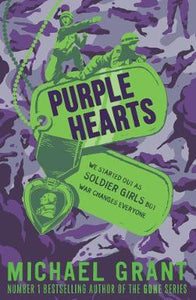 Book Title: Purple Hearts
ISBN: 9781405273886
By Author(s):GRANT MICHAEL
By Publisher:EGMONT
Format:PB
Third and final instalment of this critically acclaimed young adult alternative historical series that began with Front Lines and Silver Stars

It's 1944, and it feels to everyone like the war will never end. Rio Richlin, Frangie Marr and Rainie Shulterman have all received accolades, been 'heroes', earned promotion - in short, they've all done 'enough' to allow them to leave this nightmare and go home. But they don't.

D-Day, June 6th 1944. On that day, many still doubted the American soldier.

By June 7th no one did.