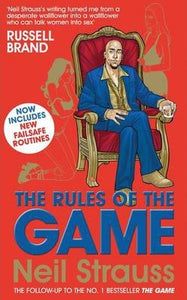 Book Title: Rules Of The Game /P
ISBN: 9781847672520
By Author(s):NEIL STRAUSS
By Publisher:Canongate
Format:PB
If you want to play The Game you need to know The Rules

Whatever experience level you have, whatever strengths and weaknesses, whether you're a virgin or a Don Juan, the stage has been set for you to perform at your highest capacity.

The Stylelife Challenge is a simple, easy-to-follow guide to the best and fastest means of approaching and attracting women. Neil Strauss spent four years gathering this knowledge, living it and sharing it, testing the specific material in this book on over 13,000 men of varying ages, nationalities and backgrounds. Part practical application and part sequel, this is the further adventures of Style and his game techniques.