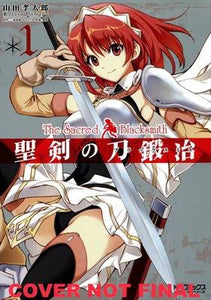 Book Title: Sacred Blacksmith Vol 1 
ISBN: 9781937867324
By Author(s):ISAO MUIRA
By Publisher:HOLTZBRINCK
Format:PB
For fans of Full Metal Alchemist and Final Fantasy comes an all new epic fantasy manga series
Like her father and grandfather before her, Cecily Campbell has entered the knighthood and joined the ranks of the Knight Guards of Houseman. Eager to do her heritage proud and defend her city, Cecily rushes to the marketplace to stop a madman from terrorizing the populace. She quickly realizes, however, that she is hopelessly outmatched and ill-prepared for an actual fight. A lone figure named Luke Ainsworth swoops to the rescue, a swordsman and blacksmith of much renown, who will repair the broken sword Cecily has inherited from her father and take her down a road of perilous adventure beyond her wildest dreams.