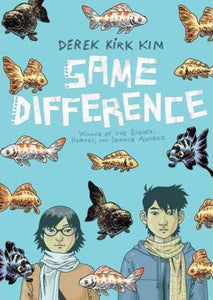 Book Title: Same Difference
ISBN: 9781596436572
By Author(s):KIM DEREK KIRK
By Publisher:HOLTZBRINCK
Format:HC
When Derek Kirk Kim (The Eternal Smile) published his debut graphic novel back in 2003, it made an immediate stir. The story about a group of young people navigating adulthood and personal relationships is told with such sympathy and perception that the book was immediately hailed as an important new work.

Seven years later, it's clear that Same Difference has won a place among the great literature of the last decade. It stands not only with Fun Home, Persepolis, and American Born Chinese as a lasting graphic novel, but with much of the best fiction of this young century. Derek's distinctive voice as an author, coupled with his clear, crisp, expressive art has made this story a classic. And this classic is now back in print, in a deluxe edition from First Second.