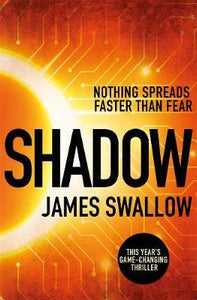 Book Title: Shadow /Ap*
ISBN: 9781785768569
By Author(s):SWALLOW JAMES
By Publisher:BONNIER ZAFFRE
Format:PB
Things are about to go viral in Marc Dane's most dangerous adventure yet . . .

Marc and his partner - former US Delta Force sniper Lucy Keyes - are pitted against their most terrifying challenge yet, when a genius bio-researcher with the ability to create a deadly biological weapon is kidnapped by a ruthless terrorist.

Their desperate search for the missing scientist takes them across the world, from the desolate wilderness of Iceland to the slums of the Near East and the dark underbelly of a fracturing Europe, where they will discover a shocking atrocity in the making.