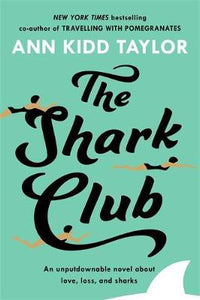 Book Title: Shark Club /Bp
ISBN: 9781472247162
By Author(s):TAYLOR ANN KIDD
By Publisher:HEADLINE
Format:PB
'A delicious summer read' Redbook; 'An easy, breezy read set in a stunning location' Daily Mail

A captivating romance set on a beautiful Florida island, from the New York Times bestselling co-author of Travelling with Pomegranates (written with Sue Monk Kidd). Not to be missed by fans of Nicholas Sparks and Jojo Moyes.

How do you choose between your first love and a sizzling new romance?

On a summer day in 1988, two extraordinary things happen to twelve-year-old Maeve Donnelly. First, she is kissed by Daniel, the boy of her dreams. Then, she is attacked by a shark.

Eighteen years later, Maeve is a world-travelling biologist, swimming with the animals that once threatened her life. She is on the brink of a relationship with a fellow diver. Yet, as she returns to the idyllic island where she grew up, she is haunted by memories of Daniel, her first love, and what might have been.

A meeting with a sweet six-year-old girl fascinated by sharks draws Maeve back into Daniel's life. Suddenly she's awash in old feelings. Will she forgive Daniel for the mistakes of their youth? Or will she open her heart to Nicholas, the handsome colleague who shares her passion for the ocean?