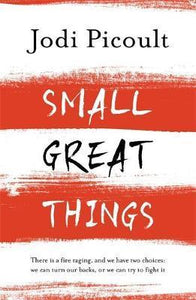 Book Title: Small Great Things
ISBN: 9781444788044
By Author(s):PICOULT JODI
By Publisher:Hodder & Stoughton
Format:PB
'It's hard to exaggerate how well Picoult writes' Financial Times

When a newborn baby dies after a routine hospital procedure, there is no doubt about who will be held responsible: the nurse who had been banned from looking after him by his father.

What the nurse, her lawyer and the father of the child cannot know is how this death will irrevocably change all of their lives, in ways both expected and not.

Small Great Things is about prejudice and power; it is about that which divides and unites us.