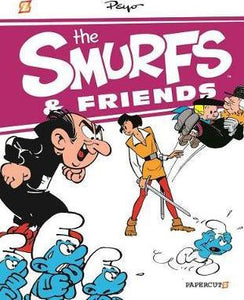 Book Title: Smurfs And Friends Vol 2
ISBN: 9781629916422
By Author(s):PEYO
By Publisher:HOLTZBRINCK
Format:HC
Another terrific compendium of Peyo classics, this time focusing on the
Smurfs arch-nemesis, Gargamel!
The Smurfs' eternal arch foe, the evilwizard Gargamel, is the center of attention in several Smurf-stories: "Gargamel and the Crocodile," features Gargamel's att empts to
raise a pet crocodile, much to Azrael's chagrin; Gourmelin, "Gargamel's Twin Brother" also stops by for a visit; a very hungry fellow returns and demands Gargamel to feed him in "The Ogre and the Smurfs;" a very noisy bird keeps makes Gargamel's life difficult in "The Smurfs and the Booglooboo;" then there's "Gargamel's Nephews" who look like three pint-size Gargamels, who stir up some trouble when they visit their uncle; and just when you think you've met all of Gargamel's look-alike relatives, "Sagratamabarb" shows up and wants to move next door to his cousin Gargamel! And if all that wasn't enough, there are dozens of gag-filled Smurfs comic strips, another adventure of Johan, in which the gallant court page must battle "The Master of Roucybeuf," and an action-packed Benny
Breakiron epic where the tiny, super-powered French boy encounters "Madame
Adolphine," a seeming harmless little old lady, who apparently is behind a major criminal caper!