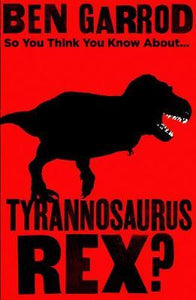 *Good as Gifts!
Book Title: So you think you know about T-Rex?
ISBN: 9781786697844
By Author(s):GARROD BEN
By Publisher:HEAD OF ZEUS
Format:HC
Biologist and TV scientist Professor Ben Garrod's fun, funny, informative and collectable series of books about dinosaurs is the most up-to-date on the market. This pocket-size series launches with Tyrannosaurus rex, Triceratops and Diplodocus, introduced by Steve Backshall, and is also available in audio download. The series continues with Velociraptor, Stegosaurus and Spinosaurus, introduced by Dr Jane Goodall. These are the most up-to-date dino books in 66 million years!

Did you know that not all dinosaurs were green and scaly, some were ginger and feathered, or that they didn't all roar, they cooed like pigeons, or that the ultimate prehistoric predator was actually not a dinosaur?

TV scientist, Ben Garrod, is proud to be a geek as he mixes hard science and humour to prove that science is for everyone. Looking at the evolutionary arms race, prey, predators, place, time, groups and species, Ben reveals new-look dinosaurs. Additional sections include: Ask an Expert, New Science and Fossil Finder as well as quizzes to test your dinosaur knowledge.