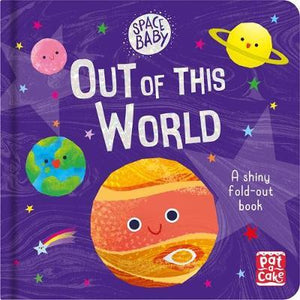 *GOOD AS GIFTS!
Book Title: Space Baby: Out Of This World
ISBN: 9781526381521
By Author(s):PAT-A-CAKE
By Publisher:Hachette Childrens
Format:BB
This shiny fold-out frieze book introduces big ideas to little ones! This first book about space will delight young babies. With shiny foil to focus on and bright colour to capture and keep their attention, this book will be revisited time and time again - and also be interesting to older toddlers. One side of the frieze shows the planets in our solar system, and the other side shows a big view from the International Space Station.

Perfect to fold out and prop on the floor to keep babies entertained during tummy time or playtime. Simple text and lots of sounds to make the book easy to use and encourage carer and child interaction.