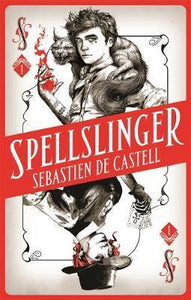 Book Title: Spellslinger
ISBN: 9781785761324
By Author(s):DE CASTELL SEBASTIEN
By Publisher:BONNIER ZAFRE
Format:PB
'An intoxicating mix of weird magic and high adventure . . . gripping from the get-go, Spellslinger is a must-read.' Jonathan Stroud, bestselling author of Lockwood & Co.

MAGIC IS A CON GAME . . .

Kellen is moments away from facing his first mage's duel and the start of four trials that will make him a spellcaster. There's just one problem: his magic is gone.

As his sixteenth birthday approaches, Kellen falls back on his cunning in a bid to avoid total disgrace. But when a daring stranger arrives in town, she challenges Kellen to take a different path.

Ferius Parfax is one of the mysterious Argosi - a traveller who lives by her wits and the three decks of cards she carries. She's difficult and unpredictable, but she may be Kellen's only hope . . .