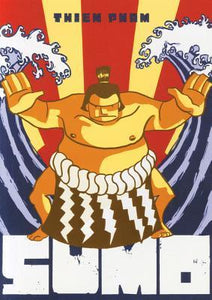 Book Title: Sumo  
ISBN: 9781596435810
By Author(s):PHAM THIEN
By Publisher:HOLTZBRINCK
Format:PB
Scott is a washed-up football player who never made it, and whose girlfriend abandoned him along with his dreams of playing pro football. But things have a way of working out, in this sweet, poetic tale--and a new chapter in Scott's life begins as the old one ends. Offered a position in a Japanese sumo training "stable," Scott abandons his old life, his old name, and even his old hair color, and becomes an aspiring sumo wrestler. And in so doing, he begins to find some kind of center in himself...a center that had seemed lost for good.

Thien Pham, the acclaimed illustrator of Gene Luen Yang's Level Up, returns as the writer and artist of a unique new graphic novel.Highly poetic and structured to echo the slow build and sudden clash of a sumo match, Pham's Sumo is an unusual and beautiful book. It's nearly a contradiction in terms: a delicate, deft, tender tale about...sumo wrestling.