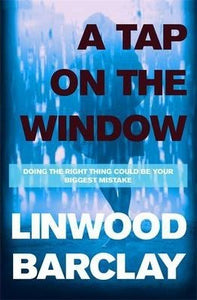 Book Title: A Tap On The Window 
ISBN: 9781409120346
By Author(s):BARCLAY LINWOOD
By Publisher: HACHETTE
Format:PB
On a rainy night, a man gives a teenage girl a lift home, but the girl he picks up isn't the same one he drops off . . . Bestseller Linwood Barclay hooks the reader from page one with this suspense masterpiece
From the author of FIND YOU FIRST

When Cal Weaver stops at a red light on a rainy night while driving home, he ignores the bedraggled-looking teenage girl trying to hitch a ride - even when she starts tapping on his window. But when he realises she's one of his son's classmates, he knows he can't really leave her, alone, on the street.

But nothing prepares him for the consequences of trying to help her out. The next morning he's gone from Good Samaritan to Murder Suspect, and with one girl dead and another missing, he's suddenly at the centre of a deadly puzzle that reaches right to the heart of the town - from its bullying police force to its strangely furtive mayor - and finally to one family's shocking secret.