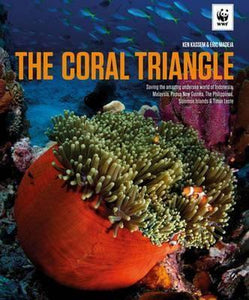 * Great as Gifts!
Book Title: The Coral Triangle
ISBN: 9781909612228
By Author(s):KEN KASSEM & ERIC MADEJA
By Publisher:JOHN BEAUFOY PUB
Format:HC
Published in association with WWF-Malaysia, this important book describes the uniqueness of the Coral Triangle region's marine biodiversity, its conservation importance and the stories, successes and struggles of the drive to maintain its rich biodiversity. The book gives a big-picture overview of threats and solutions and up-close and personal experiences from the ground and the people affected by conservation. The stories come from the work that WWF-Malaysia and USAID Coral Triangle Support Partnership are carrying out in the region. Chapters cover the rich habitats of the Coral Triangle and the endangered species, as well as an in-depth survey of each of the countries of the area. As the earth's single greatest repository of marine life, the Coral Triangle is also a great draw for SCUBA divers. For each of the countries covered, top dive sites are listed. Stunning illustrated with Eric Madeja's photographs, this book is a visual feast as well as an essential read.