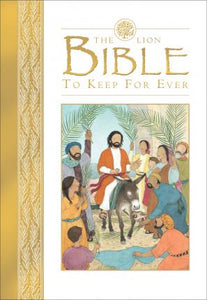 * Great as gifts!
Book Title: The Lion Bible To Keep For Ever -
ISBN: 9780745969145
By Author(s):LOIS ROCK
By Publisher:LION HUDSON
Format:HC
An accomplished author and illustrator team come together to present a children's Bible, full of charm and grace. Trusted author Lois Rock uses all her understanding and skill as a leading Bible storyteller to retell 50 favourite stories from the Old and New Testaments, with simplicity and sincerity. Each story is prefaced with a one-line introduction explaining its place in the Bible, so children can gain a deeper understanding of the broader sweep and purpose of the Bible's stories as a whole. This beautifully presented keepsake Bible is graced with glowing pencil and watercolour illustrations, which add to its charm and appeal.