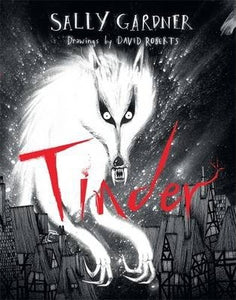 Book Title: Tinder 
ISBN: 9781780621494
By Author(s):GARDNER SALLY
By Publisher: ORION
Format:HC
Otto Hundebiss is tired of war, but when he defies Death he walks a dangerous path. A half beast half man gives him shoes and dice which will lead him deep into a web of dark magic and mystery. He meets the beautiful Safire - pure of heart and spirit, the scheming Mistress Jabber and the terrifying Lady of the Nail. He learns the powers of the tinderbox and the wolves whose master he becomes. But will all the riches in the world bring him the thing he most desires?

Fairy tales are often the cruellest stories of all; in this exquisite novel Sally Gardner writes about great love and great loss.