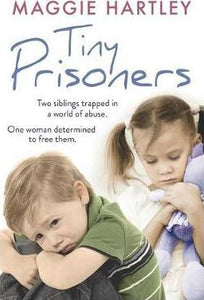 Book Title: Tiny Prisoners
ISBN: 9781409165354
By Author(s):MAGGIE HARTLEY
By Publisher:ORION
Format:PB
Evie and Elliot are scrawny, filthy and wide-eyed with fear when they turn up on foster carer Maggie Hartley's doorstep. Aged just two and three years old, this brother and sister have hardly set foot outside their own home. They have been prisoners, locked in a terrifying world of abuse, violence and neglect.

Maggie soon realises that Evie and Elliot are lacking the basic life skills we all take for granted. The outside world terrifies them; the sound of the doorbell sends them into a panic that takes hours to abate. Gradually unlocking the truth of their heart-breaking upbringing, Maggie tells their shocking true story.

From emotionally scarred and damaged little children, we see how - with warmth and dedication - Maggie transforms their lives. As this moving story unfolds, we share Maggie's joy when these children finally smile again, when they realise they do have a future after all.