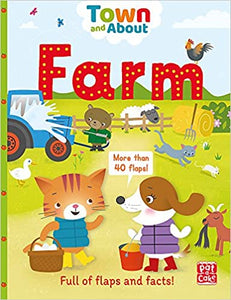 Book Title: Town And About: Farm Full Of Flaps
ISBN: 9781526380272
By Author(s):GERLINGS REBECCA
By Publisher:PAT-A-CAKE
Format:BB
How do you harvest thousands of potatoes? How do you make a sheep sit still while it's being sheared? What do sheepdogs do all day? Kit and Pup, two inquisitive and friendly characters, will accompany very young children on a voyage of discovery as they peek beneath the flaps to learn all about life on the farm. Jam-packed with detail, this busy book both informs and entertains curious preschoolers who are just beginning to learn about the world around them.