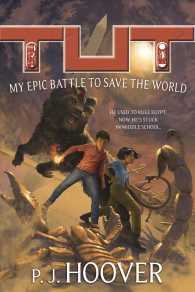 Book Title: Tut: My Epic Battle To Save World
ISBN: 9780765390837
By Author(s):HOOVER P.J.
By Publisher:HOLTZBRINCK US
Format:PB
Pleasantly reminiscent of Rick Riordan's work."--Publishers Weekly Meet Tut! He used to rule Egypt. Now he's stuck in middle school. Having defeated his evil uncle and the Cult of Set, who tried to send him to the afterlife, the perpetually fourteen-year-old King Tut is looking forward to a relaxing summer vacation. But then Tut discovers that his brother Gilgamesh has been captured by the Egyptian god Apep, Lord of Chaos. Gil helped to vanquish Apep thousands of years ago, and now Apep is back for vengeance. It's up to Tut and his friends, Tia and Henry, to find Gil and stop Apep before he succeeds in his scheme to swallow the sun and plunge the world into darkness forever... Tut: My Epic Battle to Save the World will appeal to fans of fast and funny mythological fantasy. Don't miss Tut's first epic adventure, Tut: The Story of My Immortal Life.