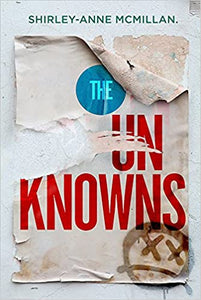 Book Title: Unknowns
ISBN: 9780349002538
By Author(s):MCMILLAN SHIRLEY-ANNE
By Publisher:Little Brown
Format:PB
Tilly is perched at the top of Belfast's largest crane. She likes to climb up high at night in order to feel free from a city which, despite the best PR, is still full of trouble and conflict. Eventually, she comes back down to discover her bike is missing and in its place is a boy named Brew. Wearing eyeliner and high-heeled boots, he offers her a drink from his flask of coffee before disappearing into the night. The next morning, Tilly's bike is returned, but tucked into the spoke of the wheel is a card with Brew's number on it.