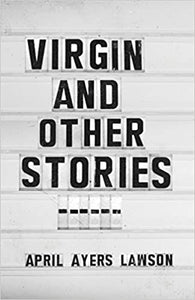 Book Title: Virgin And Other Stories /H
ISBN: 9781847085603
By Author(s):LAWSON APRIL AYERS
By Publisher:PUSHKIN PRESS
Format:HC
Set mostly in the American South, at the crossroads of a world both secular and devoutly Christian, April Ayers Lawson's stories evoke the inner lives of young women and men navigating sexual, emotional, and spiritual awakenings.

In 'The Negative Effects of Homeschooling', Conner, sixteen, accompanies his grieving mother to the funeral of her best friend Charlene, a woman who was once a man. In 'The Way You Must Play Always', Gretchen, a thirteen year old who looks even younger, heads into her weekly piano lesson in nervous anticipation of her next illicit meeting with her teacher's brother, Wesley. 'Vulnerability' charts the edgy attraction a promising young artist begins to feel for her art dealer. And in the title story, 'Virgin', Jake grapples with the growing chasm between him and his wife, Sheila, a woman who was still a virgin when they wed. At a cocktail party thrown by a wealthy donor to his hospital, he ponders the intertwining imperatives of marriage - sex and love, violation and trust, spirituality and desire - even as he finds himself succumbing to the temptations of his host.