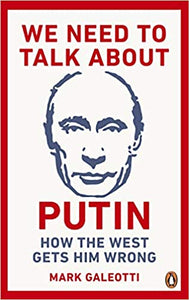 Book Title: We Need To Talk About Putin
ISBN: 9781529103595
By Author(s):MARK GALEOTTI
By Publisher: RANDOM HOUSE UK
Format:PB
'Galeotti sketches a bleak, but convincing picture of the man in the Kremlin and the political system that he dominates' - The Times

Meet the world's most dangerous man.

Who is the real Vladimir Putin? What does he want? And what will he do next?

Despite the millions of words written on Putin's Russia, the West still fails to truly understand one of the world's most powerful politicians, whose influence spans the globe and whose networks of power reach into the very heart of our daily lives.