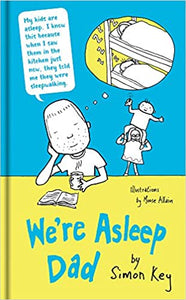 *Good as Gifts!
Book Title: We're Asleep, Dad /H
ISBN: 9781786699343
By Author(s):KEY SIMON
By Publisher:HEAD OF ZEUS
Format:HC
'My kids are asleep. I know this because a paper airplane has just smashed against my head & on the wing someone has written "we're asleep Dad".

'My kids have done their homework. I know this because according to them, this week their homework is to play 3 hours of Minecraft each night'.

'My kids are ready to go out. I know this because they've hidden all their clothes...'

In recent times, we've celebrated 'unmumsy' mums, but what about desperate dads? We're Asleep, Dad is a collection of 100 laugh-out-loud tweets from a dad's perspective on the five main struggles of parenting: Bed Time, School, Food, Going Out and Weekends complete with quirky hand-drawn illustrations by Moose Allain. In this hilarious and stylish gift book, Simon Key perfectly captures all the ups and downs of what it's like to be a frazzled father on the front line.