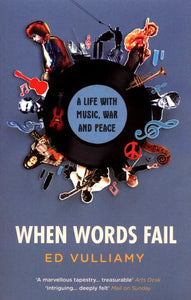 Book Title: When Words Fail /P
ISBN: 9781783783373
By Author(s):ED VULLIAMY
By Publisher:GRANTA
Format:PB
Can music make the world a better place? Can it really 'belong' to anyone? Can the magic, mystery and incertitude of music - of the human brain meeting or making sound - can it stop wars, rehabilitate the broken, unite, educate or inspire? From Jimi Hendrix playing 'Machine Gun' at The Isle of Wight Festival in 1970 to the Bataclan under siege in 2015, Ed Vulliamy has lived the music, met the legends, and asked, when words fail, might we turn to music? There's only one way to find out, and that is to listen...