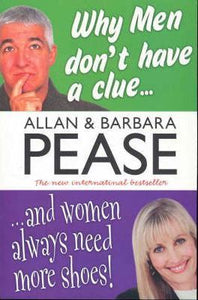 Book Title: Why Men Don't Have A Clue...and Women Always Need More Shoes!
ISBN: 9781920816131
By Author(s):ALLAN & BARBARA PEASE
By Publisher: PEASE INTERNATIONAL
Format:PB
The gulf between the sexes, the misunderstandings and conflicts are still as present in our lives in the twenty first century as they were when Adam first fell out with Eve. This book helps you transform the way in which you relate to the opposite sex.