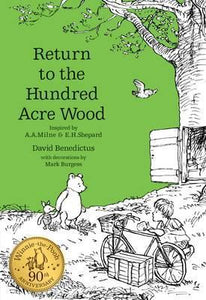 Book Title: Winnie the Pooh: Return to the Hundred Acre Wood
ISBN: 9781405284561
By Author(s):NA
By Publisher:EGMONT UK
Format:HC
90 years after Winnie-the-Pooh first delighted readers, David Benedictus takes us back to the Hundred Acre Wood for more adventures with A. A. Milne's Bear of Very Little Brain.

From the excitement of Christopher Robin's return to the curious business of learning to play cricket, Return to the Hundred Acre Wood features all the old friends from Pooh, to Piglet, Eeyore to Owl and Tigger to Rabbit.

David Benedictus's authorized sequel to A. A. Milne's original Winnie-the-Pooh stories are splendidly illustrated by Mark Burgess in the style of the original E. H. Shepard artwork. All of the old friends are in attendance. Enjoy the sights, sounds and smells of the Hundred Acre Wood 90 years after since it was first discovered. There's still plenty of fun to be had in this forest.