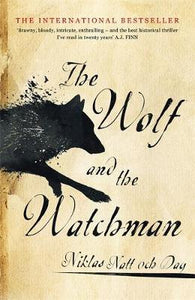 Book Title: Wolf & Watchman /Bp**
ISBN: 9781473682146
By Author(s):NATT OCH DAG NIKLAS
By Publisher:HODDER & STOUGHTON
Format:PB
'A thrilling, unnerving, clever and beautiful story. Reading it is like giving a little gift to oneself' Fredrik Backman

The year is 1793, Stockholm. King Gustav of Sweden has been assassinated, years of foreign wars have emptied the treasuries, and the realm is governed by a self-interested elite, leaving its citizens to suffer. On the streets, malcontent and paranoia abound.

A body is found in the city's swamp by a watchman, Mickel Cardell, and the case is handed over to investigator Cecil Winge, who is dying of consumption. Together, Winge and Cardell become embroiled in a brutal world of guttersnipes and thieves, mercenaries and madams, and one death will expose a city rotten with corruption beneath its powdered and painted veneer.