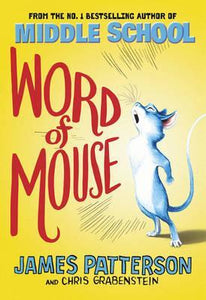 Book Title: Word Of Mouse /T
ISBN: 9781784754211
By Author(s):PATTERSON JAMES
By Publisher:RANDOM HOUSE
Format:PB
What makes Isaiah so unique?

First, his fur is as blue as the sky - which until recently was something he'd never seen, but had read all about. That's right - Isaiah can read, and write. He can also talk to humans... if any of them are willing to listen!

After a dramatic escape from a mysterious laboratory, Isaiah is separated from his 'mischief' (which is the word for a mouse family) and has to use his special skills to survive in the dangerous outdoors, and hopefully find his missing family. But in a world of cruel cats, hungry owls and terrified people, it's hard for a young mouse to make it alone.

When he meets an equally unusual and lonely human girl named Hailey, the two soon learn that true friendship can transcend all barriers.